I think this blog is going to be hazardous to my bank account. Here are a few books that come out today that I will most likely find myself buying sometime in the near future.
The Story of Us, by Deb Caletti
Simon Pulse
Aside from the title instantly bringing to mind that terrible Bruce Willis/Michelle Pfieffer movie (just realizing that they probably didn't worry about this because the target audience is too young to remember that movie and oh my god I'm old) this is the book that I'm most excited about this week.
Cricket's mother is (finally, after three tries) getting married to someone Cricket adores, but his children--Cricket's future step-sisters--don't feel the same happiness towards the union. Throw in some teenage lust, a Grandpa "revealing a secret" (what?), and an ex-wife crashing the wedding, and we've got ourselves a party.
You can purchase the book and read some serious reviews (like, from
PW
and stuff)
here
.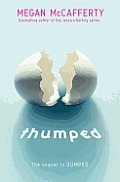 Thumped, by Megan McCafferty
Balzer + Bray
The power and fragility of reproduction is a theme that I gravitate to (thanks mostly to The Handmaid's Tale), but Thumped (a sequel to the earlier Bumped) seems to take this idea and turn it on its head. In McCafferty's futuristic world, getting "bumped" (that means pregnant. Get it?) brings status and accolades, and can only happen to teen girls. Twins Harmony and Melody (ugh, those names) are separated at birth, living separate lives, and set to give birth--on a very public stage, it would appear--to two sets of twins on the same day.
The story sounds intriguing, but I'm also getting a bit of a creepy 16 and Pregnant fangirl vibe from it, and the cutesy names for everything might be a bit much for me. I'd also have to read the first book, which sounds much less enticing. I'm not really selling this one, am I? (But Holy Cover Design, Batman! This book is gorgeous.)
Buy it from your friendly independent internet bookstore
here
!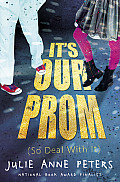 It's Our Prom (So Deal With It), by Julia Anne Peters
Little, Brown Books for Young Readers
This is one of those YA books that has little chance of gaining an adult audience, but I think it sounds pretty fun. There will most likely be wacky hijinks, teen angst, and some references to teen fashion that are hilariously misguided (as they always are). But I know Julie Anne Peters is funny, and the idea of telling the story from two different perspectives is a tried and true tactic in the YA world. I'll give this one a shot.